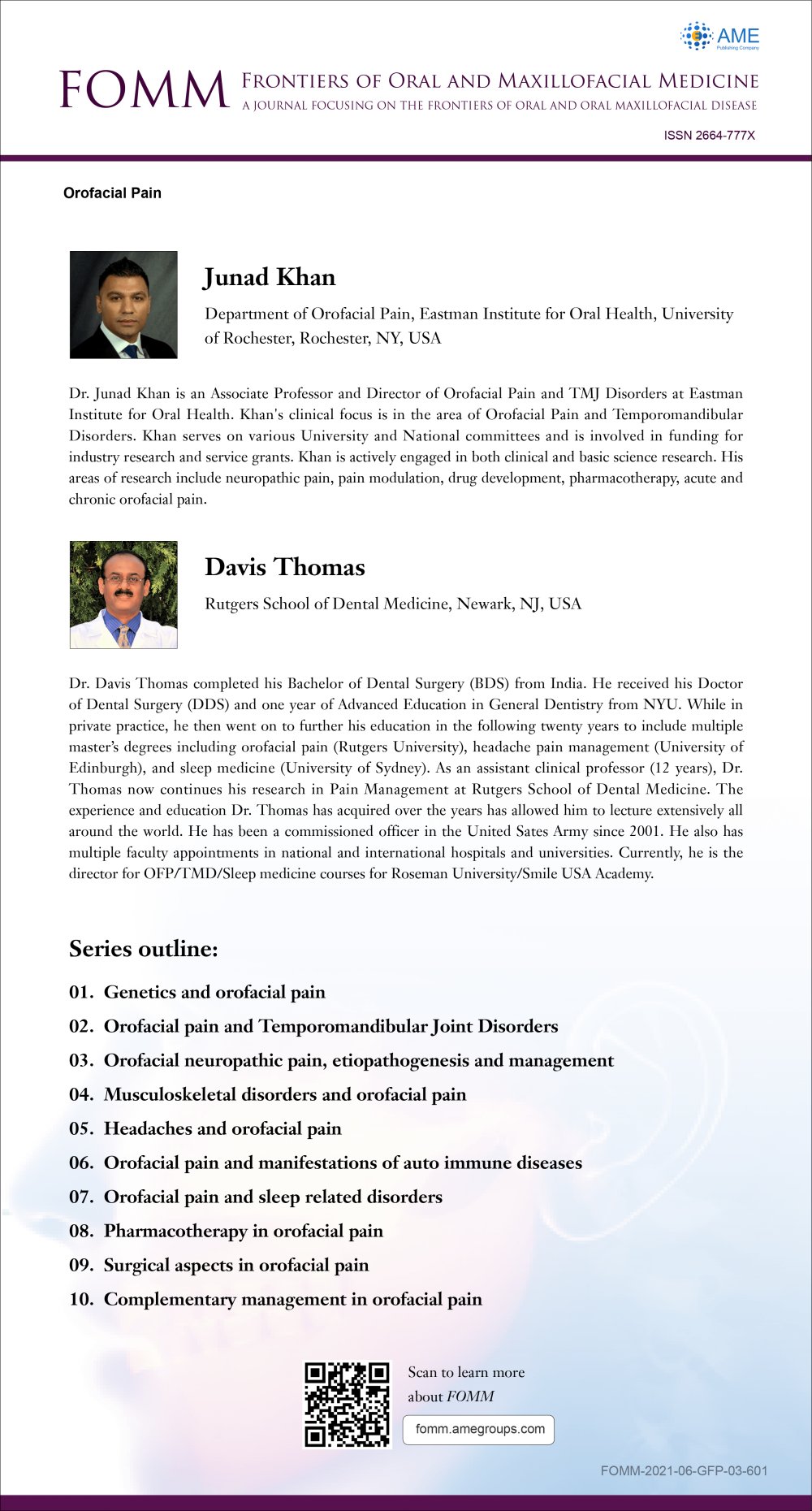 This series on Orofacial Pain is co-edited by Dr. Junad Khan, from Eastman Institute for Oral Health, University of Rochester, Rochester, NY, USA; and Dr. Davis Thomas, from Rutgers School of Dental Medicine, Newark, NJ, USA.
Junad Khan
Department of Orofacial Pain, Eastman Institute for Oral Health, University of Rochester, Rochester, NY, USA
Dr. Junad Khan is an Associate Professor and Director of Orofacial Pain and TMJ Disorders at Eastman Institute for Oral Health. Khan's clinical focus is in the area of Orofacial Pain and Temporomandibular Disorders. Khan serves on various University and National committees and is involved in funding for industry research and service grants. Khan is actively engaged in both clinical and basic science research. His areas of research include neuropathic pain, pain modulation, drug development, pharmacotherapy, acute and chronic orofacial pain.
Davis Thomas
Rutgers School of Dental Medicine, Newark, NJ, USA
Dr. Davis Thomas completed his Bachelor of Dental Surgery (BDS) from India. He received his Doctor of Dental Surgery (DDS) and one year of Advanced Education in General Dentistry from NYU. While in private practice, he then went on to further his education in the following twenty years to include multiple master's degrees including orofacial pain (Rutgers University), headache pain management (University of Edinburgh), and sleep medicine (University of Sydney). As an assistant clinical professor (12 years), Dr. Thomas now continues his research in Pain Management at Rutgers School of Dental Medicine. The experience and education Dr. Thomas has acquired over the years has allowed him to lecture extensively all around the world. He has been a commissioned officer in the United Sates Army since 2001. He also has multiple faculty appointments in national and international hospitals and universities. Currently, he is the director for OFP/TMD/Sleep medicine courses for Roseman University/Smile USA Academy.
Series outline:
1. Genetics and orofacial pain
2. Orofacial pain and Temporomandibular Joint Disorders
3. Orofacial neuropathic pain, etiopathogenesis and management
4. Musculoskeletal disorders and orofacial pain
5. Headaches and orofacial pain
6. Orofacial pain and manifestations of auto immune diseases
7. Orofacial pain and sleep related disorders
8. Pharmacotherapy in orofacial pain
9. Surgical aspects in orofacial pain
10. Complementary management in orofacial pain
Disclosure:
The series "Orofacial Pain" was commissioned by the editorial office, Frontiers of Oral and Maxillofacial Medicine without any sponsorship or funding. Junad Khan and Davis Thomas are serving as the unpaid Guest Editors for the series.